In addition to our regular meditation schedule, Treetop offers a variety of retreat experiences to deepen your practice. From weekend intensives to week-long sesshins, practitioners of all levels can find a suitable retreat.
Sesshins offer the opportunity to deepen one's practice with a longer, more intense period of silence, including a rigorous schedule of silent seated meditation, daisan (face-to-face teaching), chanting services, work practice, and dharma talks. A suggested donation of $45 per full day covers shared lodging and vegetarian meals.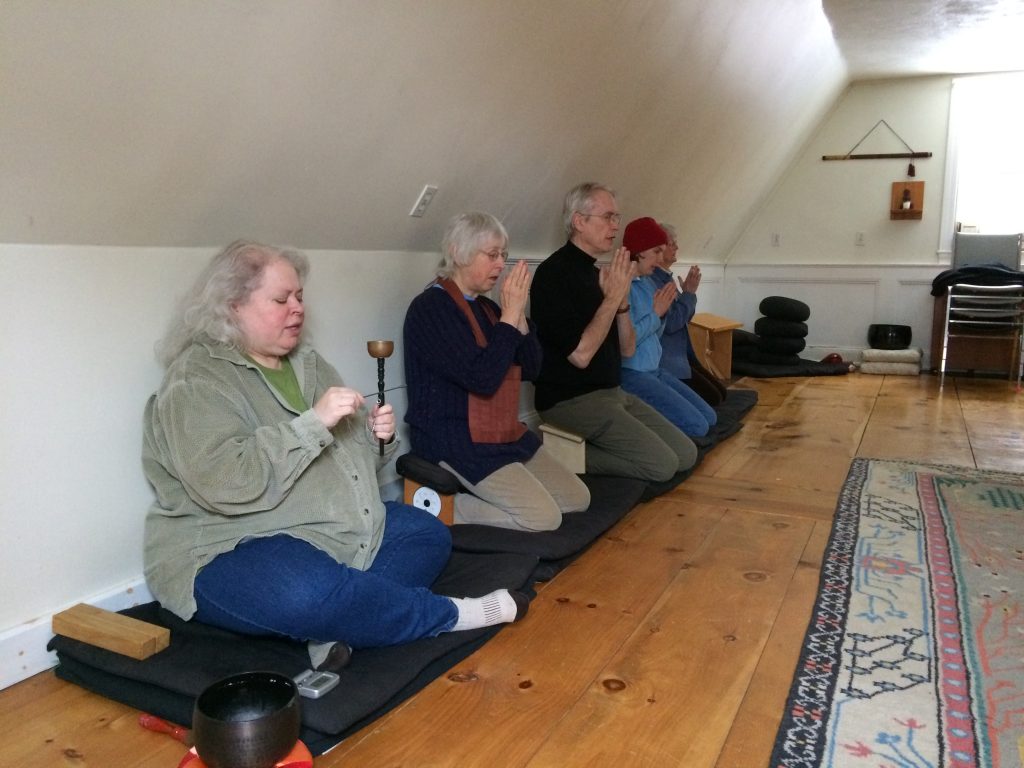 Winter Sesshin
Our annual winter sesshin begins at 7 p.m. on Saturday, January 6th, and ends after lunch on Friday, January 12th. For more information, e-mail info@treetopzencenter.org.
Ecospiritual Retreat
"We abuse land because we regard it as a commodity belonging to us. When we see land as a community to which we belong, we may begin to use it with love and respect."
— Aldo Leopold
Can we, just for a little while, shed the anthropocentric views that shape our relationship to the world, courageously mounting our escape from the prison of cognitive structures that separates us from the experience of genuine intimacy with "all our relations"?  Can we breathe deeply and taste the air that isn't contaminated by our human preconceptions and preoccupations? Can we hear the sound that existed before all sounds came into being? Can we really feel the pulse of life in the wild that surrounds us?
These are some of the questions we'll explore in the wintry Maine woods. We will spend the weekend alternately stepping silently into the frosty wildness and returning to the wood fire's heat to drink tea and bathe in the warmth of our retreat community. We will explore silence and darkness. We will gather in the soft flickering light of oil lamp and wood stove to share stories as our ancestors have done for millennia. We will engage in ecopsychological and ecospiritual activities that will help us peel off our mental husks, exposing the softness of our true nature — intimacy with all of creation. We will eat simple, vegetarian, largely locavore meals in the traditional oryoki style, consciously acknowledging the connection to all that supports our lives. Perhaps we will experience genuine nourishment tasting and seeing the whole universe in our bowls. We will participate in preparing the meals and in keeping our spaces clean, recognizing the essential role of the elemental tasks of living with simplicity and sincerity.
The retreat will be led by Peter Wohl, a Zen Buddhist priest and teacher, a Registered Maine Guide, an unapologetic tree hugger, and a wanderer of wild places.
We will begin with dinner at 6:00 p.m. on Friday, February 23rd, and end after lunch on Sunday, February 25th. For those from out of town, we have simple accommodations available at Treetop. Participation is limited to eight people. A $50 deposit will hold your place. The requested donation for the weekend is $175; however, we will provide a work-scholarship arrangement for anyone who cannot afford the full price.
For more information, e-mail info@treetopzencenter.org.