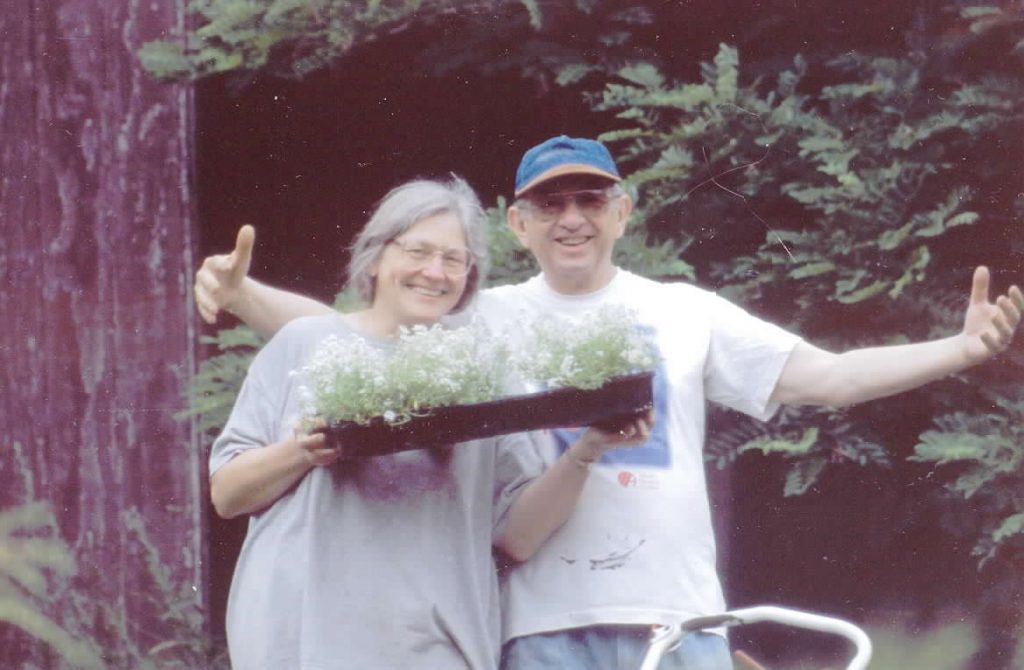 Prior to 2001, Stef and Margaret Barragato, Treetop's founding teachers, were teaching in Kerhonkson, NY. In addition to the Dragon Cliff sangha, which met at their home, they also taught Zen to inmates at a maximum-security prison facility. Working with the inmates was always one of Stef's greatest pleasures. Teaching in the confines of the prison required him to strip down the practice to its most essential elements.
After 9/11, New York City residents began to move north into the Hudson Valley. Seeing the quiet rural area transformed by population growth and realizing that the area already had many Buddhist teachers, Stef and Margaret decided to move north to Maine, where they could continue to enjoy nature and where no Zen teachers resided at that time.
Stef and Margaret first landed in Brewer (near Bangor). The Brewer home's sitting area felt like it was nestled in the treetops — hence the Treetop name. But they didn't remain there long, moving to Orono less than a year later. In those early days there were only three students: Mike, a professor of geospatial mathematics at UMO; Jamie, an engineering professor at Maine Maritime Academy; and Bob, a trucker. Bob had a remarkably clear, simple grasp of the Dharma, which may have been an outgrowth of the fact that he had lived alone, deep in the woods of Aroostook County, for seven years.
In Orono the tiny sangha sat in a sunroom off Stef and Margaret's bedroom. There wasn't much artifice in those days — just sitting, kinhin, and discussion. However, the closeness to the teachers and the intimacy of that small group was something special.
Over time the sangha began to grow, and Stef and Margaret decided to create a dedicated zendo. A two-car garage attached to their beautiful home was completely transformed into a brightly lit and airy practice space. Stef and Margaret also began to introduce a little more formality into the practice. Mike and Jamie were the first Treetoppers to take the precepts (jukai), and that evening someone from Waterville, Mary Jo, joined us for the first time. That was the beginning of the Waterville presence that would become a factor in the move to Oakland several years later.
We started having sesshins, which were remarkably close and simple affairs. Sleeping in their living room, preparing meals in Margaret's kitchen, sitting in the zendo, taking oryoki meals in the dining room, and heading out into the backyard for kinhin knitted the sangha and teachers together in a very deep way.
Of course, Stef was ever-vigilant to make sure that we didn't become too attached to that peace and intimacy. A TV crew and a flock of birdwatchers were among the surprise visitors during our retreats. However, the greatest surprise was the arrival of a black bear who tore a bird feeder apart as we sat in the zendo, admittedly distracting us from our practice. Had Stef had a hand in that particular event?
Treetop was clearly emerging. Everything was held lightly. There was some formality but no attachment to ritual. Our frequent mistakes in zendo form and etiquette were gently corrected while Stef and Margaret also helped us to accept our natural state of imperfection. The simple, unassuming presence of the teachers was infecting us all. Those were truly special times, but impermanence would soon make itself apparent.
While Stef was visiting his sister in Sicily, he noticed that he was having trouble breathing. Upon returning to Maine, he saw a pulmonologist and was diagnosed with pulmonary fibrosis, a debilitating and fatal disease. That set many changes in motion. At the time Margaret was a teacher, but she hadn't become a Zen priest because of her Catholic affiliation. In order to preserve the priestly side of the lineage when Stef passed, she shaved her head and became a novice priest. Mike and Peter Wohl also took the novice vows in the tokudo ceremony around that time.
Over the next several years that our sangha was fortunate enough to spend with Stef, we witnessed the evolution of his remarkable teaching. In his final years, Stef bore his increasing infirmity and impending death with grace and equanimity and consciously worked to strip away all traces of self-centeredness and everything extraneous. The Dharma was the core of his existence, and his love of Treetop was expressed every day. In his mercurial way, he constantly worked to ensure the future of Treetop's Dharma and sangha. Every week we were surprised by his new ideas and plans for the future.
It was about five years from Stef's diagnosis until his death in 2010. As his illness progressed, Stef and Margaret decided to move Treetop from Orono to its present location in Oakland in order to be close to the core of the sangha, which had shifted toward the Waterville area.
By the end of Stef's life, every trip to the zendo was, as Peter Harris remarked, as if he was a climber approaching the summit of Mount Everest. Lugging his oxygen tank, he would need to stop and rest after every step. Yet he was in the zendo teaching with remarkable power until just a few days before his death. When Stef died, not only Treetop but Zen in America suffered an immeasurable loss. After his death, Margaret and the entire sangha struggled with grief and depression. Our practice took time to recover.
Once again the reality of impermanence was to manifest itself when late in 2012 Margaret was diagnosed with esophageal cancer. Over the last year of her life, Treetop saw the decline of yet another powerful teacher.
Stef had a traditional presence in the daisan room — our interviews often ended abruptly with the admonition to go deeper and the sound of the bell. Daisan with Stef always felt like entering the den of the dragon. Margaret, on the other hand, embodied warmth and compassion. She had a gentle way of helping us to wake up and see the reality that was always right there before our eyes. Her Dharma complemented Stef's perfectly by bringing the soft presence of deeply realized moments to life. She also skillfully joined Zen with aspects of her Christian faith so seamlessly that they appeared to have always been joined.
While most Zen practice centers are known for their teachers, going forward Treetop will be known for its remarkable sangha. This sangha is truly the "horse that runs at the mere shadow of the whip," to use an image of the Buddha's. Closely knit, supportive, unassuming, and with a deep love of practice, the Treetop sangha is the true legacy of Stef and Margaret Barragato.