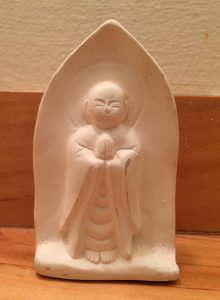 Treetop Zen Center provides a friendly, relaxed place to wake up to this world through the 2,500-year-old tradition of Soto Zen Buddhism.
Practices include zazen (seated silent meditation), working with fully transmitted teachers, koan introspection (wrestling with perplexing questions), lovingkindness meditation, chanting, open-hearted engagement with moral precepts, and the academic study of Buddhist sutras and other spiritual texts — all undertaken in a spirit of playfulness, curiosity, respect, and intimacy.
Our Oakland zendo is a short drive from both Waterville and Augusta and is reasonably accessible from most of central and southern Maine. In addition, Treetop has affiliate sitting groups, each led by a fully empowered teacher, in Portland, Lewiston, and Keene, New Hampshire.
Treetop has meditation sessions on Wednesday evenings and Saturday mornings as well as periodic half-day sits, weekend retreats, beginners' orientation mornings, and two week-long sesshins (silent retreats) each year.
Treetop meets in the zendo, which is located above the garage just past the main house. Enter the garage through the door near the far right side of the building, leave your shoes, and come upstairs through the white door.
If it's your first visit, we recommend arriving 30 minutes early for a brief orientation and calling ahead to ensure that someone will be available to meet with you. However, even if you arrive after we've already begun service or sitting, a teacher or senior student will be happy to show you around and assist you in getting settled in.
We welcome anyone to attend any event at any time.